Yoga Retreat Packages
Packages are available for guests whose main purpose is yoga.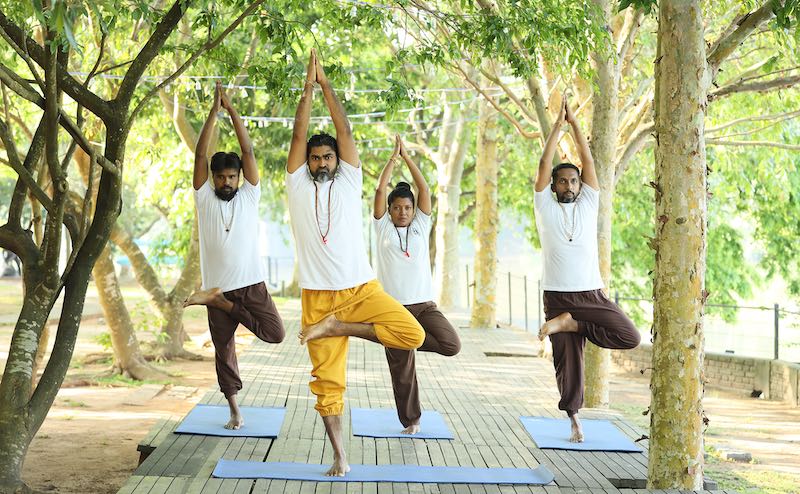 Yoga with Ayurveda ~Special limited month~
【Yoga Package】
Ayurveda and yoga have a special inseparable link as traditional method of maintaining health.
Our resort, which offers authentic Ayurvedic treatments, also offers daily yoga classes, but we have created a yoga-centred plan for those who wish to have a more yoga-focused retreat.
Spend time reflecting on yourself with five hours of yoga each day, followed by two hours of Ayurvedic treatments.
You can participate in the package from any day of the week during the implementation period.
*Check the implementation period here
Package includes
3 meals per night
5 hours Yoga session per night
2 hours Ayurveda treatment per night
Daily schedule of this package
| | |
| --- | --- |
| 6.00 - 8.00 am | Relation yoga and morning pooja |
| 8.00 - 9.00 am | Breakfast |
| 10.00 - 12.00 pm | Ayurveda treatment |
| 12.00 - 03.00 pm | Lunch & leisure time |
| 12.00 - 03.00 pm | Yoga asana practice & meditation |
* Example
Weekly schedule of Yoga
| | |
| --- | --- |
| Sun | Pranayama Yoga asana & meditation |
| Mon | Hatha yoga asana & meditation |
| Tue | Hatha yoga asana & meditation |
| Wed | Kriya yoga asana & meditation |
| Thu | Kriya yoga asana & meditation |
| Fri | Shivananda asana & meditation |
| Sat | Beginners asanas & meditation |
About each Yoga
HATHA YOGA
Hatha Yoga attains the union of mind-body-spirit through the practice of asanas, pranayama, mudra, bandha, and shatkarma. These body-centered practices are used to strengthen and purify the physical body, cultivate prana (life-force energy) and activate kundalini power. In Two days mainly practice ASANAS.MUDRA & BHANDA. Improve your Yoga Asana flexibility & deep knowledge about banda & Mudra. The main source is Hatha yoga pradeepika.
KRIYA YOGA
Kriya yoga aims at the attainment of spiritual growth. Through pranayama techniques to regulate the breath, kriya yoga allows practitioners to accelerate spiritual growth. Kundalini meditation is a more physical and mental practice that aims to purify the body and mind as a means to achieve a state of spiritual absorption. Mainly 18 asanas are practiced under Kriya yoga. Guru Babaji is the main person who introduced Kriya yoga.
SIVANANDA YOGA
Guru Swami Sivananda is the main person who introduces this yoga method. This style of yoga has its roots in Hatha yoga and a strong focus on the health and physical well-being of the yogi. Sivananda yoga enhances the flexibility of the muscles, joints, ligaments, and tendons. Mainly 12 Asanas are practiced under the Sivananda tradition.
PRANAYAMA
Pranayama is a method of controlling breathing. Breathing means Ana & Apana. Ana means Inhale Apana means Exhale. Pranayama is one of the best methods for increasing our energy level. There is 15 methods in Pranayama. In 7 days of practicing pranayama & learning deep knowledge about pranayama meditation.
BEGINNERS ASANAS
Under this practice, standing asana, bending asanas & balancing asanas. Mainly focused on how to teach asanas for beginners and what kind of asanas are good for beginners.
Points
The content of the treatment will be decided after consultation with an Ayurvedic doctor. If you have a desired treatment, please fill in the remarks column on the reservation page.
This package is only available to guests staying in Sunrise Deluxe Rooms near the Yoga shala (Yoga hall).