Karunakarala Ayurveda Resort has been certified by the Sri Lanka Tourism Development Authority (SLTDA) as a "Safe and Secure Certification Hotel"
KARUNAKARALA AYURVEDA RESORT
Karunakarala Ayurveda Resort in Negombo, Sri Lanka is an ideal Ayurveda hotel for an authentic Ayurveda retreat. Enjoy your wellness holidays in this beautiful Ayurveda resort nestled in a natural forest. You can participate in daily Yoga and Meditation lessons while taking Ayurveda treatments and therapies.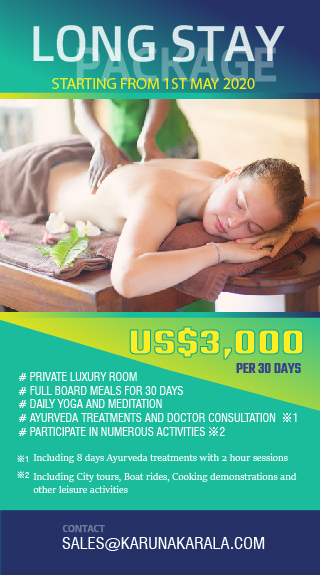 Stay in a spacious luxury villa finished with 'Neem Wood'- a wood which is very well known for its Ayurveda properties. All the villas are fully equipped with amenities, including dry bath-rooms, mini bars, lockers, hair dryers
A Family type villa
Bedroom of a Superior villa
Private veranda of a Superior villa
Ayurveda holiday packages to suite your gender, age, health & length of your stay.
Six wellness packages are there aimed at enhancing physical comfort and improving inner peace of the guest. Curative packages are there for guests who visit the hotel to get ayurveda treatments for a particular ailment.
Ayurvedic doctor consultation
Ayurveda Steam Bath at Karunakarala Ayurveda Resort
Ayurveda therapy conducted by an Ayurvedic doctor
FOR BEAUTY & WELLNESS
AYURVEDA SPA PACKAGES
Spa packages are specially designed for those who do not wish to take accommodation at Karunakarala Ayurveda Resort Hotel in Negombo but want to try the unique spa experience we offer.
A full body massage therapy
An Ayurvedic head massage
"Pinda Sweda" massage
"Shirodhara" massage
AYURVEDIC DINING
An Ayurveda doctor makes a diet plan for you to suite your health conditions, after initial consultation. You will be offered a balanced, healthy diet throughout your stay. Meals are prepared according to ayurvedic principals with fresh organic ingredients obtained from our farms and contracted third party organic farms.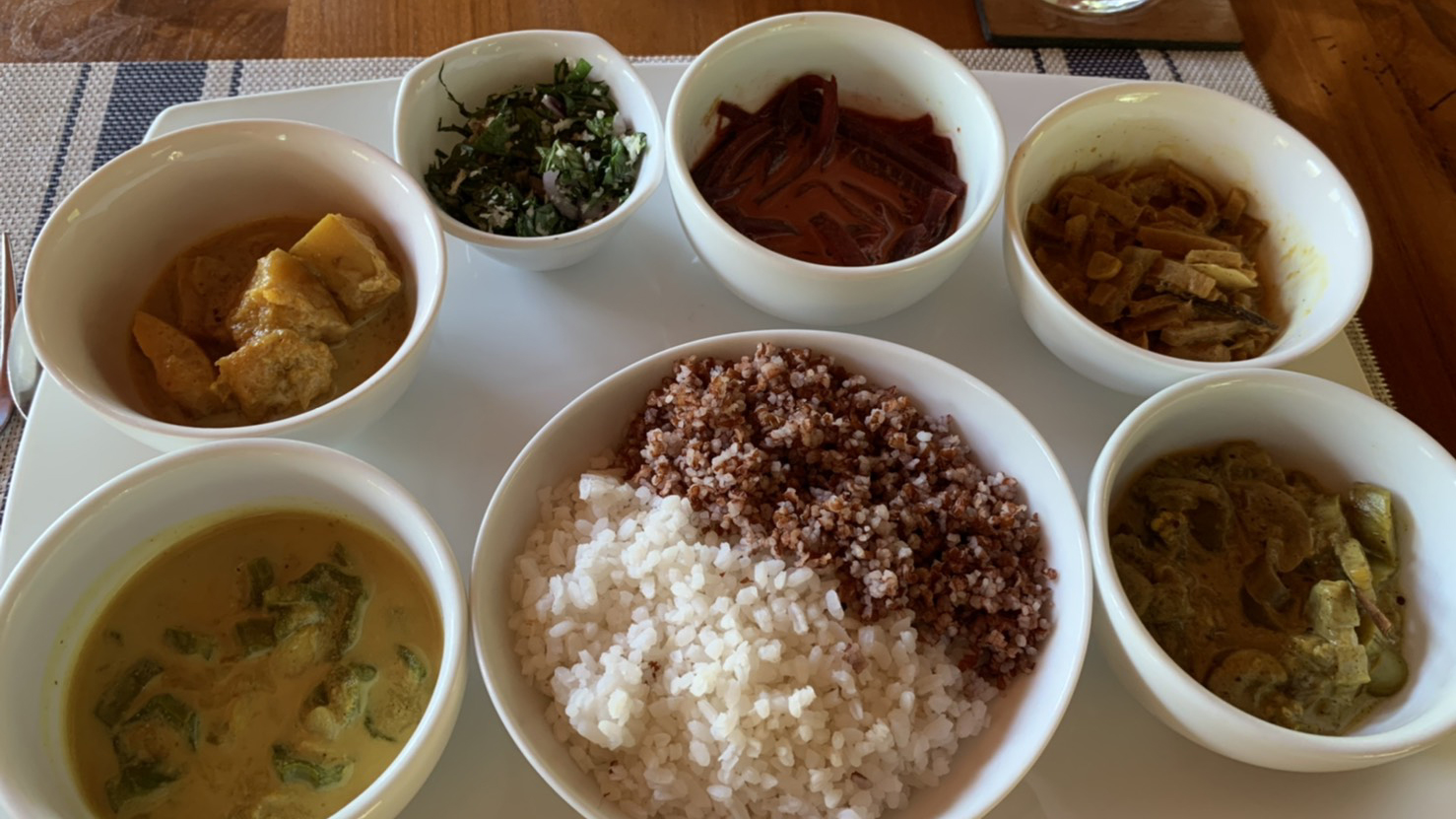 Sri Lankan Rice and Curry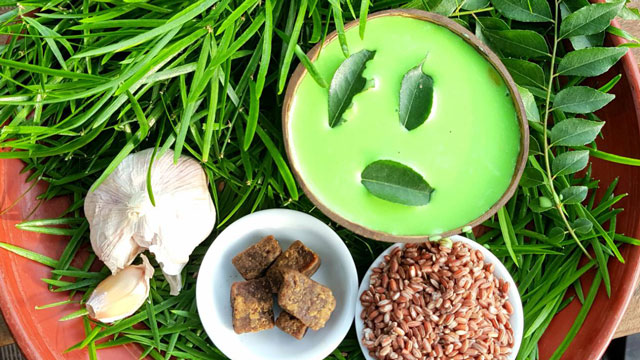 "Kola Kanda" - A soup made of various kinds of leaves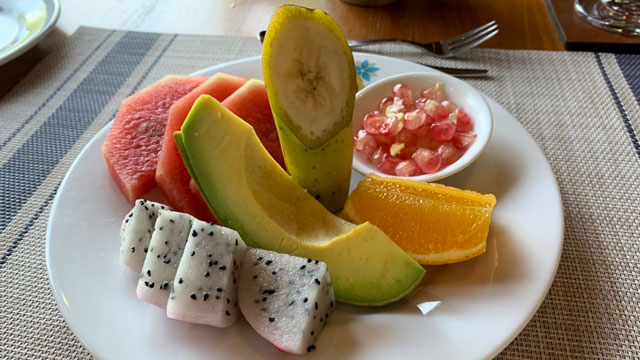 A serving of fresh fruit
YOGA RETREAT
DAILY YOGA & MEDITATION LESSONS
One of the best Yoga instructors in Sri Lanka is conducting daily Yoga & Meditation lessons at Karunakarala Ayurveda Resort.
Yoga & Meditation Lessons
Yoga in Beach (every Wednesday)
Morning Yoga (Daily)
Evening Meditation (Daily)
※ Anyone staying in the hotel can participate in Yoga & Meditation lessons.
In-house yoga instructor of Karunakarala
Evening Yoga Sessions at Negombo Beach
A meditation lesson at the deck on the river bank
A Yoga lesson in open yoga studio
LEISURE ACTIVITIES
At Karunakarala we ensure that you make the most during your stay with us. We provide a range of activities on-site and off-site in the beautiful and exciting Negombo area that will make your stay with us even more memorable.
Cooking demonstration
Shopping tour in Negombo town
Boat ride in beautiful "Ma Oya" river
Visit to Negombo beach
Herbal-ball making
Morning Yoga & Sunset Yoga
Boat ride
Botanical garden tour
Meditation Class
Tourist market tour
Negombo beach tour
Boat-ride in 'Ma Oya' rive
Cooking demonstration
Ayurveda Training Session
Meditation class
PAID TOURS
Golden Temple of Dambulla
Rock Fortress of Sigiriya
Elephant Orphanage in Pinnawala
Temple of Tooth in Kandy(Dalada Maligawa)
Colombo City Tours

Gangamara Temple Colombo
Dutch Hospital @ Shopping District

Negombo City Tour

Brown beach sightseeing
Fish market
※ In addition, we can make tours according to your requirements. Please contact the front desk
Pinnawala elephant orphanage
"Dalada Maligawa" - Temple of Tooth in Kandy
Cave Temple in Dambulla
Sigiriya Rock Fortress
Brown Beach Negombo
CONTACT US
Should you need assistance to make a booking for your holiday in our hotel, OR need more details, Please feel free to contact us through the following form or call us directly. Our telephone lines are open 24/7 for your convenience.